Chewy Chocolate chip cookies are an absolute classic. This recipe is super simple, great for baking with kids, and the perfect base for adding other flavours and textures.
There are so many recipes for chocolate chip cookies out there, so, why did I need to write another one?
Well, I'm a big fan of keeping things simple. I've taken out lots of the ingredients that you commonly see, simplified the process, and just created a basic chocolate chip cookies recipe.
Yes, you still need to cool the dough, to stop them from spreading and flattening too much. But there's very little faff and no unnecessary ingredients.
This blog post contains affiliate links, this means if you click on a link and go on to buy the product I recommend, I will get a small commission, but you will not be charged more.
That makes this simple chocolate chip cookie recipe perfect for baking with kids. But also a great base if you want to start adding more chocolate, adding your favourite treats (hi Daim bars!), or changing the shape.
Once you've mastered super simple cookies you've got a great base for experimenting with new things, and making cookies is always great fun.
Let's face it, eating cookies is pretty good too. I love a couple of Chewy Chocolate Chip Cookies with a cup of tea in the afternoon. Although, these are pretty massive, so maybe just one!
Who Invented Chocolate Chip Cookies?
Chocolate chips cookies feel like one of those things that should always have existed. It's so simple!
But, actually, they've only been around since 1938.
The story is that Ruth Graves Wakefield chopped up a Nestle chocolate bar and added it to a cookie recipe, and so the chocolate chip cookie (Toll House specifically) was born.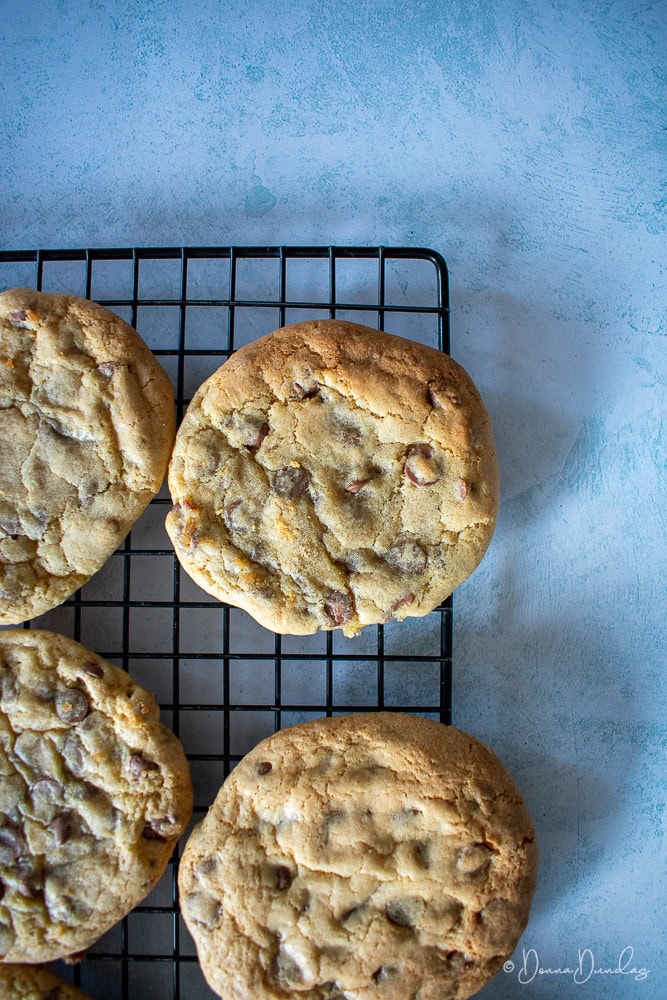 Proving of course that the very best ideas and recipes are the simple ones!
Baking Cookies with Kids
I absolutely love baking with kids. We do it quite often, and especially in the winter when it's cold and we don't want to go out.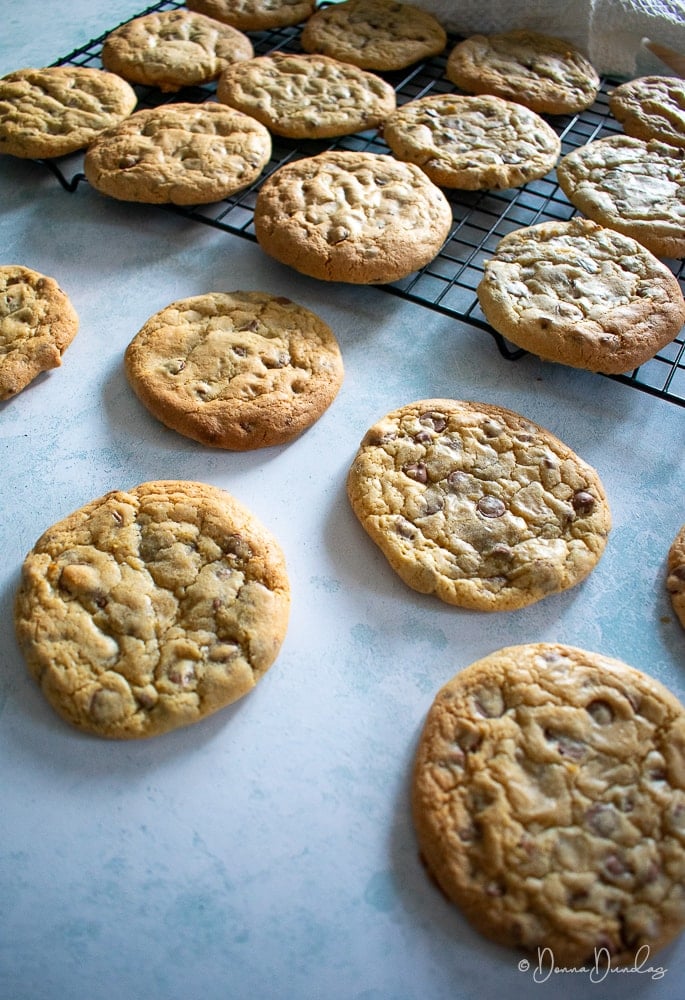 It's a great way to teach them more about cooking, to get a bit messy, and to get everyone away from screens.
Chewy Chocolate Chip Cookies are perfect for baking with kids, because they are easy, but also because they can have fun rolling and flattening the balls of dough.
Even better for a rainy afternoon, chances are you've got most things that you need in your cupboard, especially if you are a keen baker.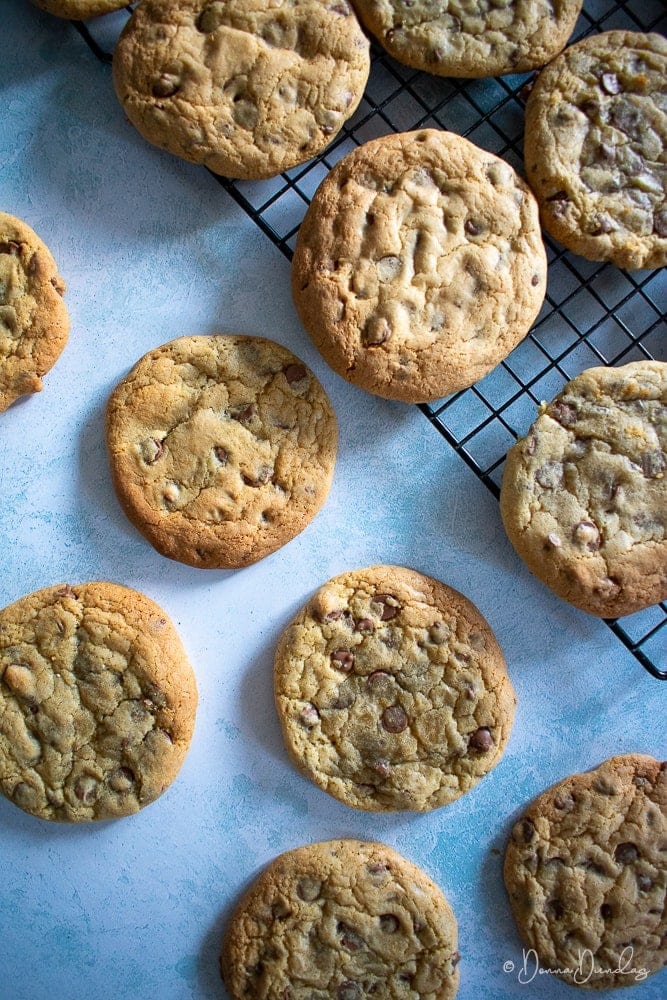 If you don't have chocolate chips for these simple chocolate biscuits, break up a block of chocolate and use chunks instead.
How to Make Chocolate Chip Cookies Chewy
I love a chewy cookie. Don't get me wrong, I'll happily eat a crunchier biscuit, especially dipped in tea. But, a big chewy cookie is perfect.
When I make this basic chocolate chip cookies recipe I always aim for that soft, chewy centre, that's almost undercooked. A bit like a brownie is to cake.
For the perfect chewy cookie, I add 2 tbsps of golden syrup. I really like the texture that this creates.
Then, it's all about time and temperature. I bake my easy cookie recipe in my fan-assisted oven at 180 degrees for around 10 minutes.
But, get to know your oven, and adjust accordingly. They can be shockingly different!
The best thing to do is to ignore bake time completely, and use your eyes.
For a chewy cookie, the edges should be cooked, but the centre still soft and underbaked. Remove them from the oven and let them finish and set on the wire rack.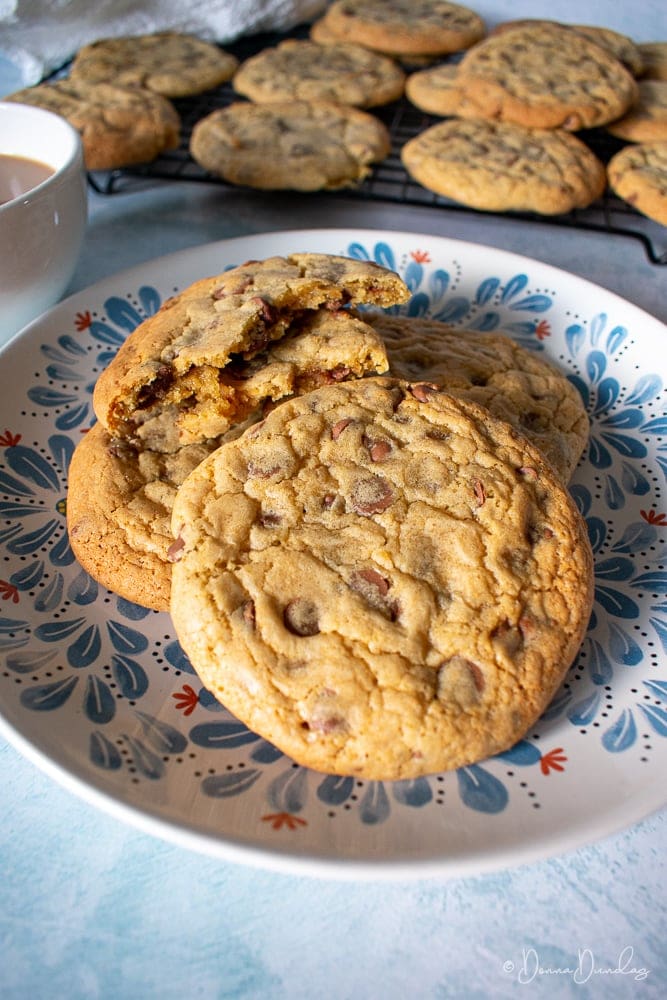 What Kind of Chocolate Chips are Best?
Honestly, any! Milk chocolate chips are great, but a combination of dark, milk and white can give you an amazing cookie.
I actually really like to make chocolate chunk cookies, instead of chocolate chip cookies.
First I take a large block of chocolate, usually dark or milk, and break it into squares. Then I break some of the squares down into smaller chunks, leaving some whole, and follow this recipe, using the chunks instead of chips.
This gives you big thick bites of chocolate. Chocolate Chunk Cookies like this are amazing when they are still warm and the chocolate is gooey and melted. Yummy.
Why are My Chocolate Chip Cookies Flat?
If your cookies are totally flat, you might have pressed them down too much. Or, you might not have used enough flour, the dough might not have been cooled enough, or your tray might be too slippery, all of which can make the cookies spread too much as they bake.
There are a few things that you can try for a thicker cookie, check out my tips below for more help.
Top Tips for Baking Chocolate Chip Cookies
My top tips for baking chocolate chip cookies are:
Don't skip the cooling. If you are in a hurry, put the dough in the freezer for 30 minutes. Or, leave them in the fridge for longer. I'd say at least an hour, but longer won't hurt if you've got things to do.
I know a lot of recipes roll the dough into balls and then chill the balls. But, I just find this recipe is too sticky to roll, and if you add too much flour, you get a cakey centre. By chilling the dough before rolling, you can work with it without the need to add extra flour. If it's still too sticky, create your dough balls with an ice cream scoop or spoon.
Press the dough down into rounds of around 3mm. I don't find this dough spreads too much as long as it's been well chilled, but if yours does, don't press down as much next time. You could even bake them from balls if they are spreading a lot.
Use baking paper, instead of just greased trays to reduce spreading.
If you are baking in batches, leave the tray and paper to cool before adding more dough.
Don't over mix. Just mix until the texture is even, don't mix for a little longer "just in case".
I use melted butter because it mixes with the sugar more easily, and so reduces the need to mix too much.
Cookies are cooked when the edges are set and firm. If you like a crunchy cookie bake for a few minutes more, so the centre has the same hard texture. If you like a softer cookie, as long as the edges are set, the centre can appear slightly underdone. It will firm up as the cookies cool.
If your cookies are too cakey, you might have added too much flour.
Everything You Need to Make Chocolate Chip Cookies
You don't need much to make my easy chocolate chip cookie recipe. I use (affiliate links):
SaveSave