Looking for a way to use up Beef from your Sunday Lunch? This Leftover Roast Beef Chilli is perfect. Soft, tender beef that melts in your mouth in a tasty chilli sauce. A wonderful way to avoid waste while enjoying another filling family dinner.
A big roast beef dinner with roast veggies and Yorkshire puddings is one of my favourite things in the world! It's so comforting and lovely.
We always had a Sunday lunch when I was a kid, and it's something that I try to carry on now that I've got a family of my own.
That's actually been one lovely thing about the lockdown. Husband usually works on Sundays, so Sunday roasts kind of fit in around what he's doing.
If I'm cooking, keeping the kids entertained and trying to work, it's a bit stressful.
Now, the husband is home, and more often than not, cooking our Sunday lunch. It's such a nice time to sit down as a family and eat.
We've also got into the habit of watching an episode of The Mandalorian on Disney + with some cake afterward. It's become my favourite time of the week.
This blog post contains affiliate links, this means if you click on a link and go on to buy the product I recommend, I will get a small commission, but you will not be charged more.
Another fantastic thing about a Sunday roast is the leftovers. We've always got plenty of beef left, and I love nothing more than creating another big family meal with it.
This Leftover Roast Beef Chilli is a great way to use up leftover meat, avoiding waste, saving money, and eating nutritious family food.
What is the Difference Between Chilli and Chilli Con Carne?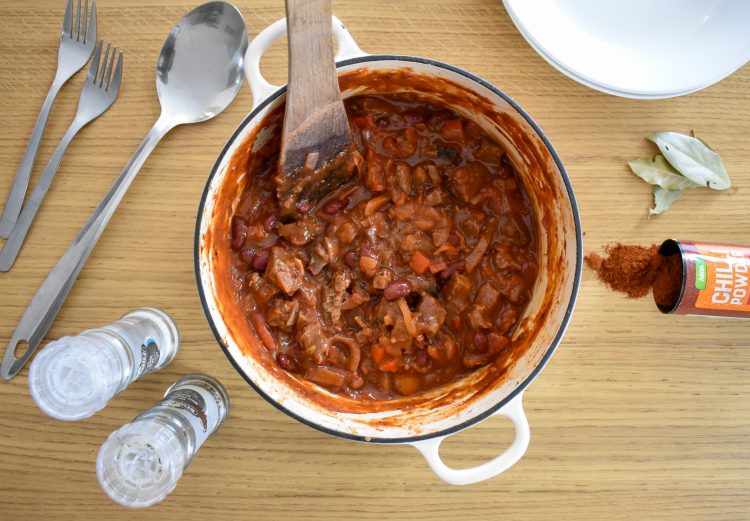 Well, I call this meal my Leftover Beef Chilli. But, technically speaking, it is a chilli con carne. Chilli is little red/green…vegatable? Fruit? Thing? That we put in in.
We've been learning Spanish in homeschool, and apparently con carne translates as "with meat". Chilli Con Carne is the meal, chilli is the fruit/veg/thing or the flavour.
Cooking with Leftover Roast Beef
Leftover beef is so great to cook with. It's already nice and tender from roasting, so it's exceptionally versatile.
I find that leftover roast beef works especially well slow-cooked in a rich sauce, like in this Leftover Roast Beef Chilli. But, it's also great in a hotpot, stroganoff, curry, chow mein, cottage pie or ragu.
If you like this chilli, you should definitely try my leftover roast beef burritos too!
Can You Make This Leftover Roast Beef Chilli Later in the Week?
Absolutely! I generally dice my leftover roast beef into small cubes or chunks on Sunday evening, after we've eaten and the joint is cooled.
I then pop it in the fridge in a sealed tub.
If you don't want to cook this chilli on Monday, as long as the joint was in date, it will be fine in the fridge for 2-3 days.
Could You Follow This Leftover Roast Beef Chilli Recipe with Fresh Beef?
Yes! When I'm making chilli with fresh beef I typically use beef mince, but if you've got some diced beef, or just prefer chunkier meat, you could absolutely still use this recipe.
Just fry the beef in a little oil until browned and then set it to one side and follow this recipe.
What is the Best Secret Ingredient in Chili?
Everyone that makes chili con carne regularly seems to have a secret chili ingredient, that just gives it that something extra, a slightly different taste that they think makes their chili special.
My secret chili ingredient is cinnamon. Either a stick, popped in while my chili simmers, or a little pinch of ground cinnamon in with the other spices.
Other secret ingredients in a chili might include coffee powder, chocolate, marmite, Worcester sauce, vinegar, soy sauce, nutmeg, cloves, or peanut butter.
Give them a go, or experiment to find your own secret chili ingredient!
Can You Freeze This Beef Chilli?
I know some people are a bit fussy about freezing food. This article from the NHS has some great tips if you've got any worries.
You can freeze this chilli once cooked, just leave it to cool and place in an airtight tub.
Thaw slowly in your fridge and reheat slowly in a pan until piping hot. Eat within 24 hours of taking it out of the freezer.
How To Serve Beef Chilli
I love chilli and rice, but we sometimes serve it with pitta bread too, and beef chilli on a soft buttered jacket potato is great! How do you serve your chilli?
What If You Don't Have Much Beef?
500g of leftover roast beef is perfect for a family of 4. If you have less than this though, don't worry, you can still make a fab Leftover Roast Beef Chilli.
Just add some extra beans, or some tortilla chips to serve to fill you up.
If you are adding extra beans, kidney are great, but butter beans, haricot beans, pinto beans or pretty much any other bean would taste great too.
Is Chilli a Healthy Meal?
Chilli can be healthy, it really does depend on the fat content of your meat.
I use low-calorie cooking spray to avoid any excess fat, and I like to think that the inclusion of fresh ingredients and fibre packed beans means that while it might be quite high in fat, it's certainly nutritious and very filling.