Leftover Roast Pork with Sweet and Sour Sauce is a fantastic way to use up leftover meat. It's tasty, packed with veg and perfect if your pork is a little dry.
Sweet and Sour is such a classic. The mix of flavours should probably be a bit crazy, but it just works.
We all love sweet and sour, whether it's made from scratch, using leftover roast pork like this, from the Chinese or even out of a jar.
In fact, throwing a jar of sweet and sour sauce over your leftover roast pork is totally fantastic if you don't want to make your own sauce.
I do recommend making your own if you can though.
It's quick and easy, you'll have most of the ingredients already, and making sweet and sour sauce from scratch means that you can adjust the recipe to suit your tastes.
Making it either sweeter, sourer, or just a bit less tart for your family dinner.
This blog post contains affiliate links, this means if you click on a link and go on to buy the product I recommend, I will get a small commission, but you will not be charged more.
How to Make Leftover Roast Pork with Sweet and Sour Sauce
Making Sweet and Sour with Leftover Roast Pork couldn't be easier.
Because the pork is already cooked, there's no batter or deep frying. You just have to dice your cooked pork for a Sweet and Sour Pork without Batter.
Making Sweet and Sour Pork without Deep Frying also means that it's healthier, as well as faster and who doesn't want a Healthy Sweet and Sour Pork?
I basically chop my veg and pork, whisk the sauce and fry it all together. Easy!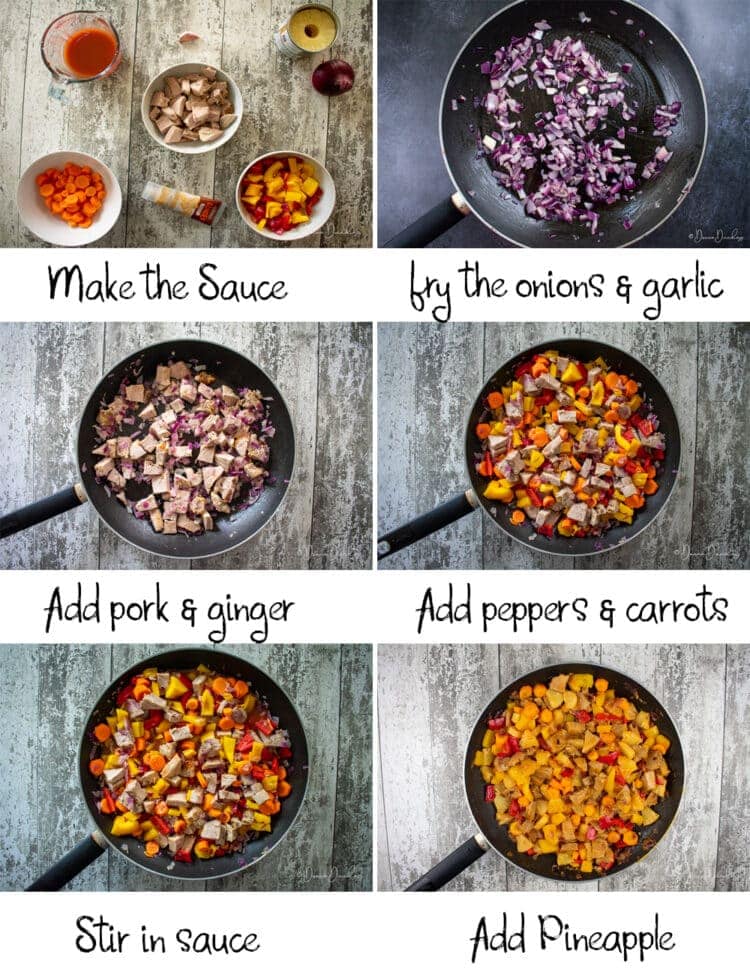 How to Make Sweet and Sour Sauce from Scratch
This is a very Easy Sweet and Sour Sauce.
The base is the juice from the tinned pineapple.
A lot of people make it with 1/3 ketchup, 1/3 sugar and 1/3 vinegar. But I always prefer the flavour with the pineapple juice.
My Quick Sweet and Sour Sauce Ingredients are:
Juice from the tinned pineapple (tends to be about 150-200 ml)
1tbsp Soy Sauce
2tbsp Apple Cider Vinegar
2tbsp Soft Light Brown Sugar
3tbsp Tomato Ketchup
1tbsp Cornflour
I mix the cornflour with a little splash of the pineapple juice before adding the rest of the ingredients and the rest of the juice and whisking it all together.
If you haven't got apple cider vinegar you can substitute it for white wine vinegar, or just malt vinegar at a push.
Then, I taste it.
I think this Sweet and Sour Sauce Recipe is fairly balanced, but you can add more sugar if you like it sweeter, more vinegar if you prefer a sour taste and some water if you just want to tone the flavour down a little bit.
Using Up Dry Leftover Roast Pork
Leftover Pork Sweet and Sour is perfect if your pork is a little dry. Reheating it in a sticky sauce like this is a great way to give it new life.
What Vegetables Should You Have in a Sweet and Sour?
I like to add pineapple, carrots, peppers and red onion to my sweet and sour.
However, you can make changes. You could add courgette, different peppers, chilli, and pretty much anything else.
You can even make Sweet and Sour Sauce without Pineapple, you'll then just need to increase the sugar, ketchup and vinegar in your sauce to compensate for the lack of pineapple juice.
What to Serve with Leftover Roast Pork with Sweet and Sour Sauce
We typically serve our sweet and sour with leftover pork with either rice or straight to wok noodles and beansprouts.
You could also serve with chips, or couscous if you prefer.
Other Ways to Use Up Leftover Roast Pork
If you like this recipe, you might also want to try some other Leftover Roast Pork Recipes. My favourites include: